Category: Refinery Pumper double as Airport Crash Tender Vehicle
This particular fire-truck is intended to be used as a pumper vehicle for industrial plants (like refineries or oil/fuel deposits) but it can be used also as ARFF vehicle for small airports. It includes all features necessary for ARFF service (top speed, acceleration, all single tires, all wheels drive, automatic gear box, pump&roll, all fire fighting functions controlled by the drive cabin) combined with a bigger foam tank and a balanced pressure foam mixing system which allows the unit to discharge foam even when water supplied from hydrants.
Model: AIS 2000/4500/PWD250
Chassis: Scania P500B4x4HZ - 4x4 - 500 Hp - Fully automatic Allison gear box with torque converter, 6 speed + reverse - Power take off for pump and roll - All single tires 395/85 R20 XZL.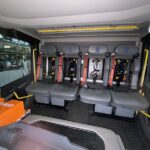 Cabin: 4 doors - 06 seats original CB28 Scania crew cab, ECE R29 certified - Crew seats with SCBA holders integrated into the backrest.
Acceleration 0-80 km/h: < 25"
Top Speed: 115 km/h
Water tank: 2'000 lt - Polypropylene (stainless steel AISI 316L or GRP option available as well)
Foam tank: 4'500 lt - Polypropylene (stainless steel AISI 316L or GRP option available as well)
Water pump: CHINETTI 2T-5012 - 4'500 lpm  @ 12 bar - Bronze - Provided with auxiliary PTO with solenoid clutch for foam pump drive.
Foam pump: CHINETTI PSCH 500 - 450 lpm @ 16 bar - Volumetric pump, self-priming, rotary gears type - Bronze body and gears - driven by the main water pump.
Roof Monitor: CHINETTI MCO5 - 3'000 @ 12 bar - Electro-hydraulically remote controlled from the drive cabin or from wireless portable controller - Mounted on the top roof of the body, at front - Dual flow (full / half) version available as optional)
Bumper Monitor: Firefox style 3463 - 950 lpm @ 7 bar (available as optional)
Foam mixing system: Balanced pressure type with foam pump and individual foam injection on each single outlet - Foam mixing ratio adjustable from 0 to 6%, individually selectable at each delivery - Suitable to work with water from atmospheric source (i.e. vehicle tank) or from pressurized source (i.e. hydrants) - Manufacturer: Chinetti.
Underbody protection: Provided, water & foam, for front and rear axle.
Dry Chemical Powder System: 250 kg - n.1 Twin Agent Water and foam / DCP hose reel 2x 1"x30mt, 400 l/min foam + 7 lb/sec DCP discharge, manual or electric rewind.
Telescopic Light Mast: Telecopic light mast 4 x 100 W LED lights (available 24V or 230V power supplied) - pneumatic extension / electric tilt & turn - autostow.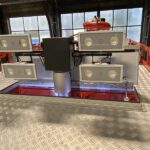 Other features: 
- Reverse camera or 360° "bird eye" vehicle surveillance system
- Roof monitor camera / Infrared front mounted camera
Equipment: as per ICAO or on Customer's request
Roof monitor discharge test video: https://youtu.be/sY1SnqLWnH0
Brake test video: https://youtu.be/R8e2_DEovxU
Our Ref. #7410