Since 1953 specialized in fire fighting vehicles.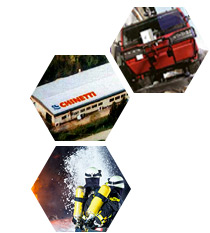 CHINETTI S.r.l., and this since 1953, designs, builds and assembles all kind of fire-fighting, rescue or special vehicles.

Our vehicles are exported all around the world and thanks to our flexibility we are able to comply with any customer requirement; the datasheets or photos you will find within this website are only showing a part of our production; therefore please do not hesitate to contact us for any technical or commercial requests, quotations or other.

The Company operates under a certified Quality Control System ISO 9001 since 1997.


Go to section

I nostri veicoli
Category: Refinery Pumper double as Airport Crash Tender Vehicle This particular fire-truck is intended to...

Category: Fire Fighting Aerial Platform MODEL: ABP 3000 / TEL34 Chassis: Mercedes-Benz Actros 3340 6x4...

Category: Industry / Crash Tender & Rescue Vehicles - Water and foam 4x4 fire truck This...
CHINETTI CFR-16 & CFR-20 HRET THE MOST ADVANCE HRET IN THE WORLD AVAILABLE IN 4x4,...

Category: Industry - Heavy Duty Foam fire truck with special water/foam cannon Model: AIS 5000/5000/FT20 Chassis: MAN...

Category: Water Tanker Model: ABP 12000 Chassis: MAN TGS 33.400 6x4 - 400 Hp - 16...
Category:   Civil Protection / Forestry fire truck Model: ABF 4000 4x4 Chassis: MAN TGM 18.280...

Category: Industry - Multipurpose fire truck (Water / Foam / Dry Chemical Powder) Model: AIS 2000/4500/PWD1000 Chassis:...

Category: Civil Defence / Industry - Water Tanker Model: ABP 8000 Chassis: IVECO ML180E28 4x2 - 280 Hp...