Category: Fire Fighting Vehicle for Industries, Foam tender.
Model: AIS 8'000
Chassis: IVECO TRAKKER AD260T45 H 6x4 - 450 Hp - EURO 6 - Manual gear-box 16 speed forward + 2 reverse.
Cabin: 2 doors, 2 seats. (Seats with SCBA holder integrated into the backrest are available as optional)
Foam Tank: 8'000 lt capacity, AISI 316L stainless steel, vehicle foam tank with internal epoxy layer to increase corrosion resistance. The vehicle can be supplied also with polypropylene foam tank instead of stainless steel, at Customer choice.
Water Pump: CHINETTI 2T-100/100 - 8'000 lpm  @ 10 bar. Bronze body and impellers, stainless steel shaft, sea-water fully compatible. The pump is provided with an integrated solenoid clutch that allows water pump engagement either from cabin control panel either from rear pump control panel. Nos.4 rear water inlets and nos.4 fire hoses for water feeding provided with electrically operated rewinding reels.
Roof Monitors: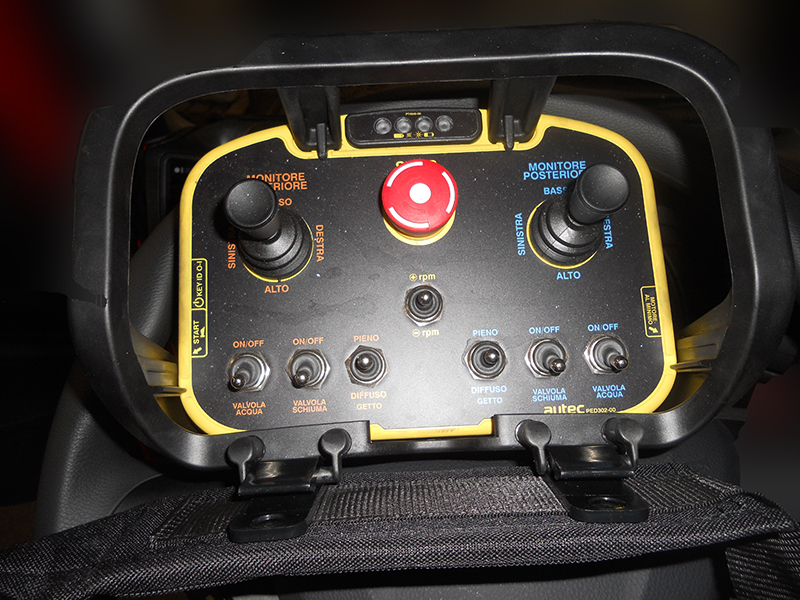 The vehicle is provided with nos.02 water & foam roof monitors, model CHINETTI MC05 - 6'000 lpm flow rate (each) - Throwing distance exceeding 80 m - The front monitor is water supplied directly from the main hydrants ring meanwhile the rear monitor is supplied through the water pump - Both monitors are remote controlled either from the pump control panel through a portable dashboard with 5m lead either from a wireless remote control unit.
Foam mixing system: automatic, balance pressure type with foam proportioning and injection at each single outlet, CHINETTI made - It can work using foam from vehicle tank or from external source and it works independently with water supplied from hydrants or atmospheric external source.
Foam Pump: CHINETTI PSCH400  - Flow rate: 400 l/min @ 18 bar - Bronze - Volumetric, self-priming, rotary gears type. - Engagement from cabin and rear control panel - It can work together or independently from the main water pump.
Bodywork: Steel frame with light alloy paneling - Two side lockers on each side for rescue equipment closed with anodized roller shutters - LED scene lights (one above each locker) - N.1 front LED search light.
Other features: 
Reverse Camera
        Roof side protections automatically operated
N.1 telescopic light mast, max height from the ground 6m, nos.2 LED lights (200W each).
Fire Fighting and Rescue Equipment: on request.
Ref #: 7062
Electric lay-flat suction hose reel: https://youtu.be/wSyaA4QnNM0