Category: Rescue Vehicle

Model: R180
Chassis: MAN TGM 13.240 4x4 - 240 Hp - Cabin 4 doors / 6 seats
Rear Crane: 
Hydraulically operated by PTO driven oil pump
Max. lifting torque: 6,58 kNm
Max. load: 2680 kg
Max. outreach 5,34 m
Front winch: Hydraulically operated - Max. pulling force 6.8 ton - steel cable, length: 30m.
Telescopic light mast: pneumatically extendable - halogen lights  2 x 1000W / 230V each.
Lockers for equipment storage: nos.6, 3 on each side, with foldable footsteps for easy access to the equipments.
Main equipments: (can be modified on custom request)
Hydraulic rescue kit (hydrulic pump, spreader, cutter, etc.)
KLifting bags kit.
Auxiliary breathable air compressor for SCBA cylinders refill.
Diving equipment kit.
Rescue inflatable boat.
Power cutter and power saw.
Auxiliary generator - 9kVA single and triple phase.
Fire approach alluminized suits.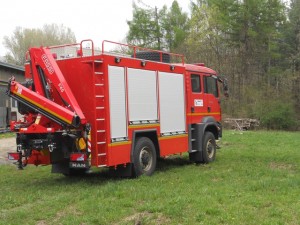 Ref #: 6785