Category: Industrial - Foam Fire Fighting Vehicle

Model: SCH60/WT20
Chassis: Volvo FH500 6x2 - 500 Hp Euro 6 - Automatic gear box - rear pneumatic suspensions, self-levelling - steering 3rd axle.
Cabin: 2 doors - 2 seats
Foam tank: 6'o00 lt - Polypropylene
Water pump: CHINETTI 2T-5012 - 5'000 lpm  @ 14 bar - Bronze
Foam pumps: 2 x CHINETTI PSCH400 - 400 lpm @ 18 bar each (can work individually or both together in parrallel, indipendently).
Water tower: 
Model: Btower 200
Hydrulic system: PTO driven oil pump - 24Vcc electric back-up pumps for emergency recovery.
Max working height: 20 m
Max outreach: 10 m
Monitor: CHINETTI MCO5 dual branchpipe - remote controlled from the cabin control panel, rear control panel and wireless remote control system.
Foam branch pipe: 4000 lpm @ 7 bar
Water nozzle: 4000 lpm @ 7 bar
Camera: High resolution zoom camera mounted on the monitor base with pan & tilt base that allow independent camera and monitor movements. Screen and control dashboard on the pump control panel.
Foam mixing system: CHINETTI - Balanced pressure type with foam injection on each single outlet, individually adjustable foam mixing ratio from 0 to 6% - Can work independently with water from a pressurized source (i.e main hydrant rings) or from open source.
Bodywork: Stainless steel frame with anodized light alloy panelling - nos.3 lockers on each side for equipment storage with foldable footsteps.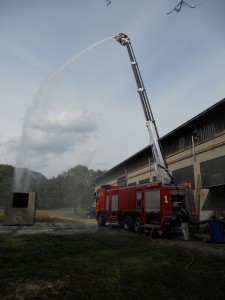 Ref #: 6780