CHINETTI CFR-16 & CFR-20 HRET
THE MOST ADVANCE HRET IN THE WORLD
AVAILABLE IN 4x4, 6x6 AND 8x8 - NFPA 414 & ICAO COMPLIANT - SINGLE or TWIN ENGINES CHASSIS - DIFFERENT TANKS CAPACITIES, PUMP & MONITOR FOW RATES.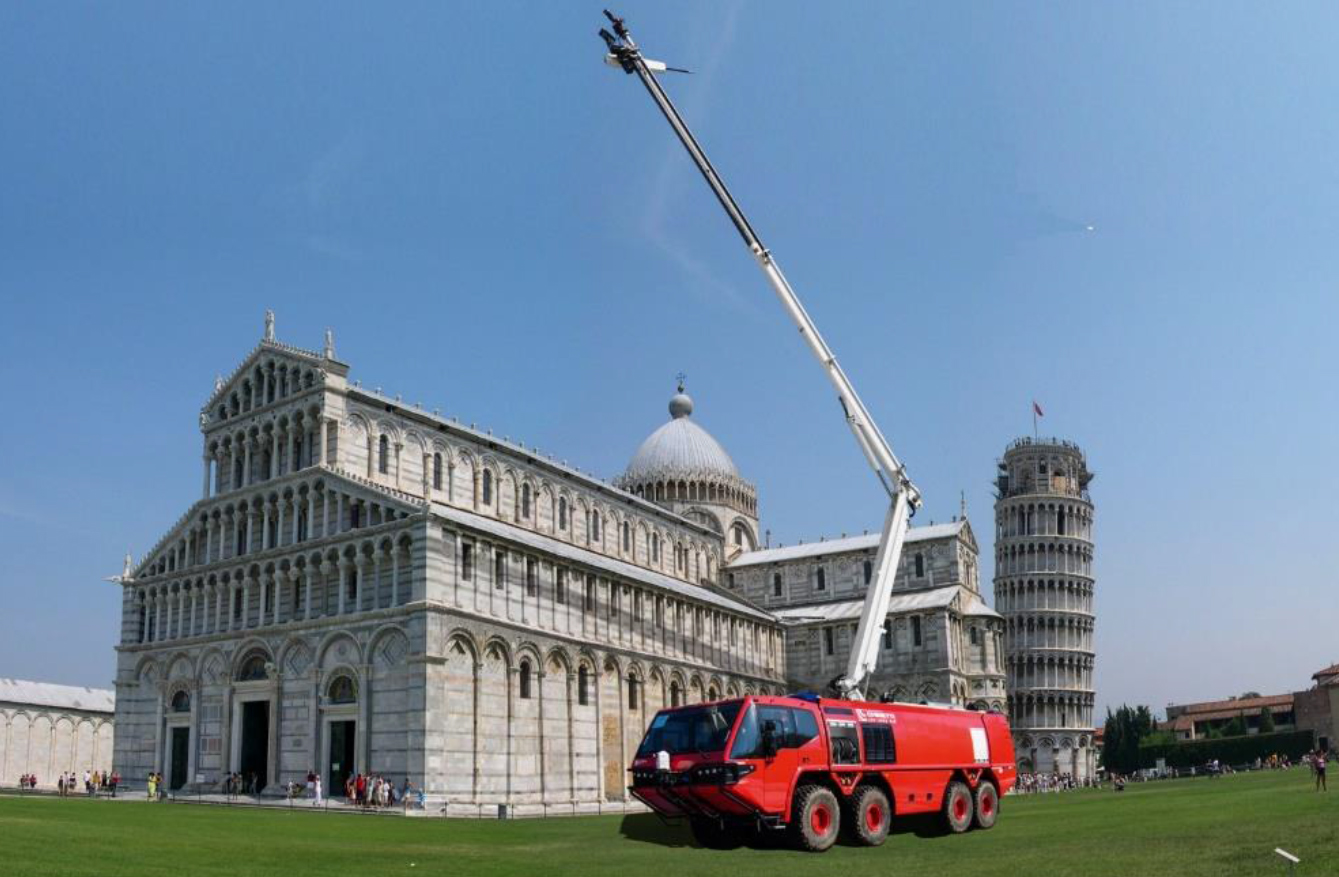 WELL PROVEN CHINETTI HRET SERIES FEATURES:
Telescopic 2 booms articulated design with sample and smooth operation.
Compensated safety link water pipe provides rigiduty to the boom, and fast speed of operation
Double skin lower boom fitted to a rugged turntable with hard edged rotation gear to provide optimum torque control while minimising excessive boom oscillation
HARDER LONGER AND DEEPER: With the CHINETTI HRET fully prportional hardened steel tip Fuseleage Penetrator with nozze for rapid media deployement inside the aeroplane, using Ulta Motion Technology and Hydraulic Battery power.
Auto-set 4 boom positions for LOW - MID  and HIGH deployment to suit the aircraft as well as the AUTOSTOW from any position.
315 degrees rotational control over Fuselage Penetrator allows precise piercing at any point around the curved fuselage sking.
Fuseleage Penetrator fully operational in 45 secs for single level aircraft.
Fuselage Penetrato fully operational in 60 secs for multilevel aircraft.
Multi positional joysticks control all functions - Simple and effective.
Heavy duty fire monitor with AFFF foam option with operation in stream and fog pattern.
STANDARD EQUIPMENT - BASIC CHINETTI HRET
Emergency manual override controls with separate hydraulic electric pack.
Boom lights and tip lights.
Auto-swing water monitor, swing out of the way when Fuselage Penetrator is engaged.
Fuselage Penetrator auto-level (with override facility).
PRINCIPAL OPTIONS FOR THE CHINETTI HRET
Infra-Red and day/night camera options fitted at tip end with touch screen monitor located inside the cabin.
Sonic proximity device to advise proximity to fuselage skin.
Dry Powder or Halatron telescopic pipe and heavy duty rubber hose system in addition to water and AFFF media.
CHINETTI CITY &  OIL HRET OPTION
Suitable for City or Oil fire fighting service, available with extended spike extensions to make up to 1.5m penetrations length.
MAIN SPECIFICATIONS:
WORKING HEIGHT: 16.6 m (HRET-16) / 20.2 m (HRET-20)
ROTATION: +/- 30 degrees
No. of BOOMS: N.1 Articulated + N.2 telescopic
DOWNLOAD FULL PDF BROCHURE: